Machining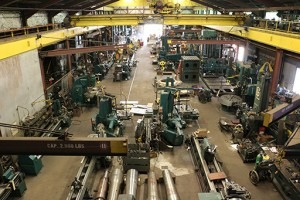 IWM Machine Shop
IWM has a complete 18,000 square foot machine shop filled with small, medium, and large equipment. As with our fabricating shop, we have a mix of skilled, seasoned veterans on our machinist team, and some of the brightest from this present generation of young tradesmen. The machine shop is also equipped with two bridge cranes 20 Ton and 25 Ton, and 2 Ton jib hoists.
Machine Equipment:
Vertical Boring Mills: a variety of vertical boring mills from 3′-0 up to 18′-0 diameters (some with DRO)
Horizontal Boring Mills: a variety of horizontal mills from 3″ to 7″ bar (some with DRO)
Engine Lathes: a variety of manual and CNC engine lathes up to 29′ long and 36″ swing
Radial Arm Drills: up to Carlton 6′-0 Arm and 19″ Column
Blanchard surface grinder – 30″ diameter
Keyseaters
Threaders
We are here to help with your machining needs, reach out to our experts today and get your project underway.